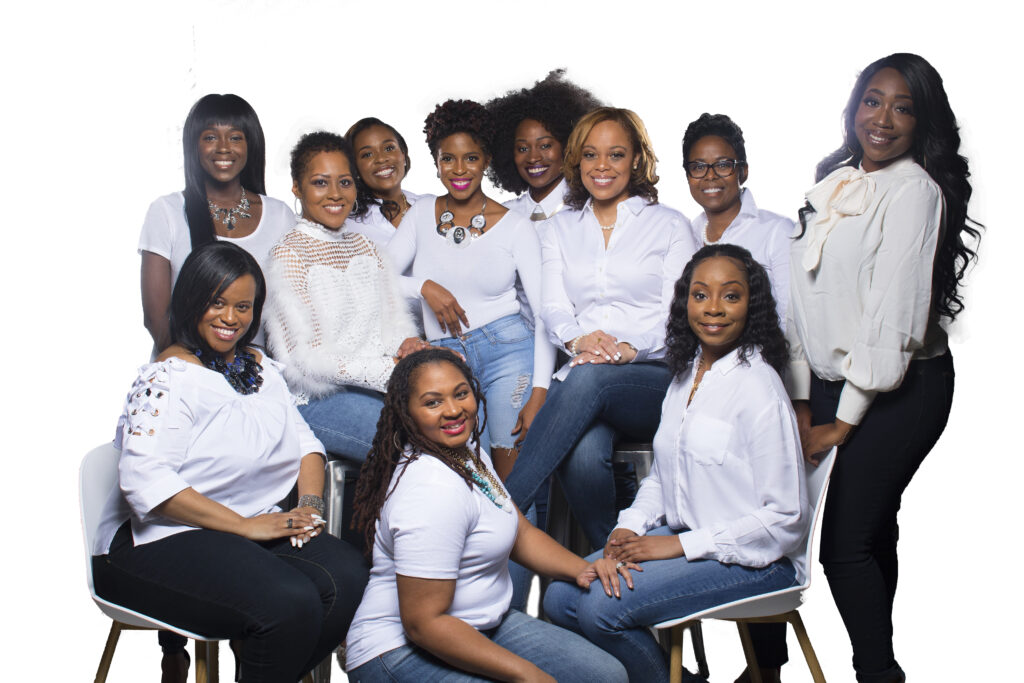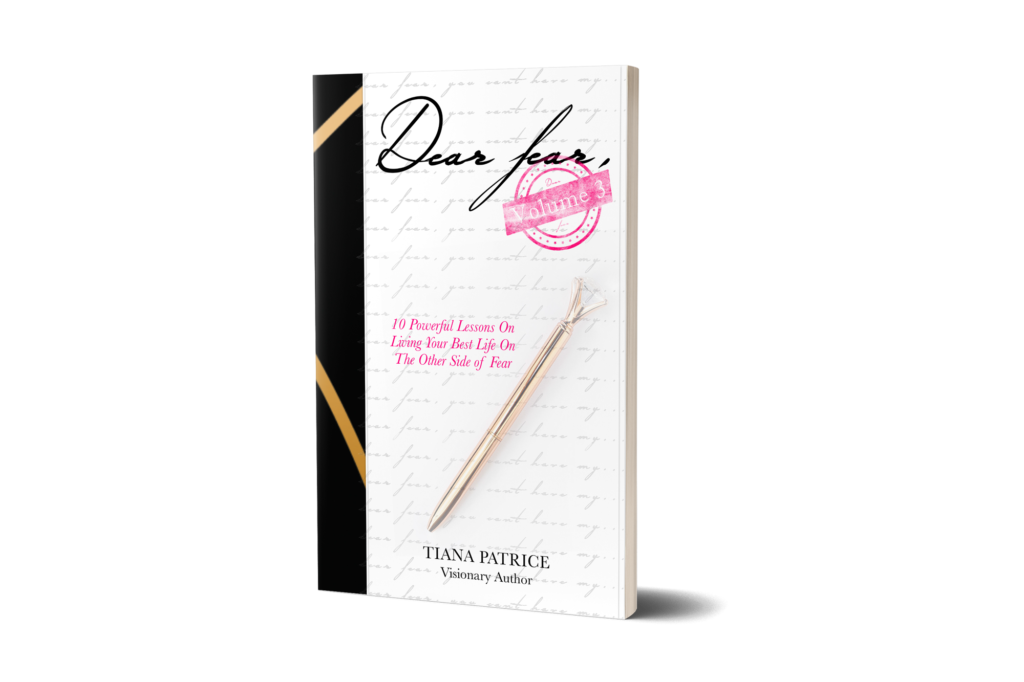 A Message From Visionary Author Tiana Patrice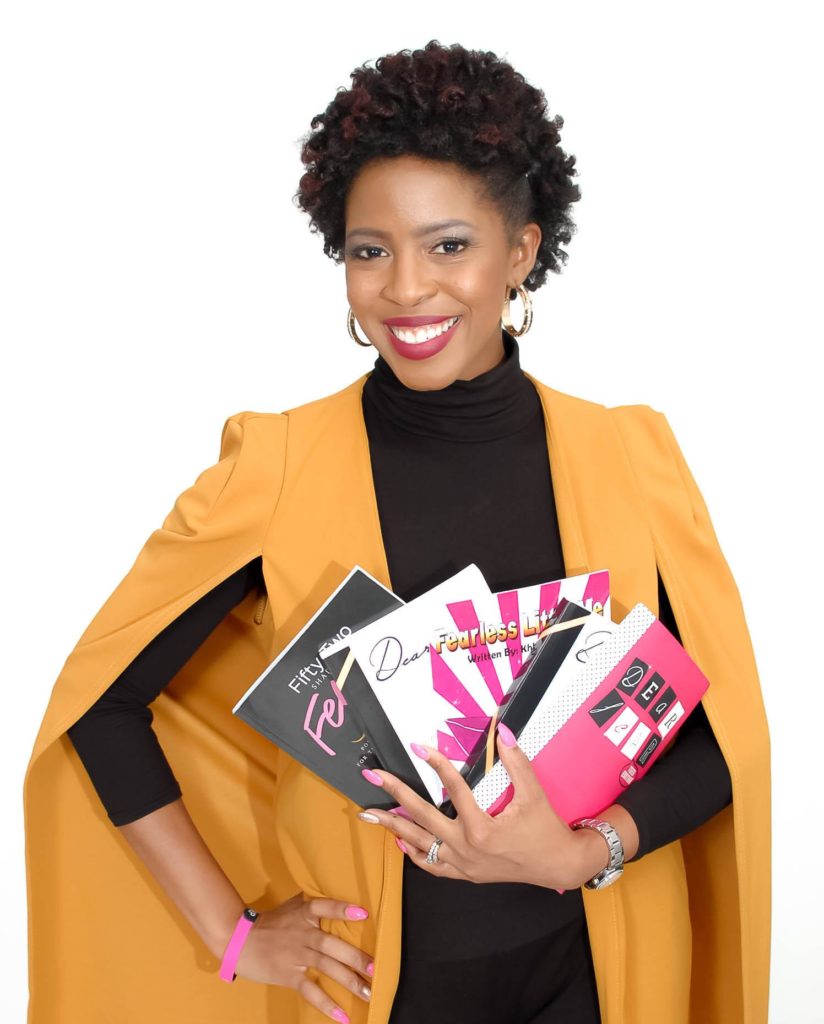 Hi Fearless Leader, it's such an honor to bring forth, now, 40 stories of courage, resilience and what it truly looks like to live life on the other side of fear. For far to long, we have allowed fear to strip us of our dreams, and push us in corners where we forget just how royal we are.
But enough is enough.
Fear is no more than the enemy, and it has a job to do. That job is to steal our dreams, kill our hopes, and destroy our destiny. But not any more. We are standing up to fear. We are owning our power. We are standing in our royal bloodline. We are declaring everything that God has promised. We are here!
No longer can fear confuse us with doubt.
No longer can fear convince us that we are inadequate.
No longer can fear encourage us to live mediocre.
No. more.
In the book, Dear Fear, you will find it is more than just a book. It's a movement…a tool, that's meant to be used. Each chapter not only shares a courageous story, it also prepares you to release the fears holding you back from your destiny. This book connects you with women all over the globe, sharing one mission, and that is to be liberated from the fear holding them back. Together we are #AMillionFearlessStrong This movement is much bigger than us. So thank you for being here, and grabbing your copy of Dear Fear, and being apart of something greater. 
With Love,
Tiana Patrice
Meet The Authors Of Dear Fear Volume 3!
Launching April 2019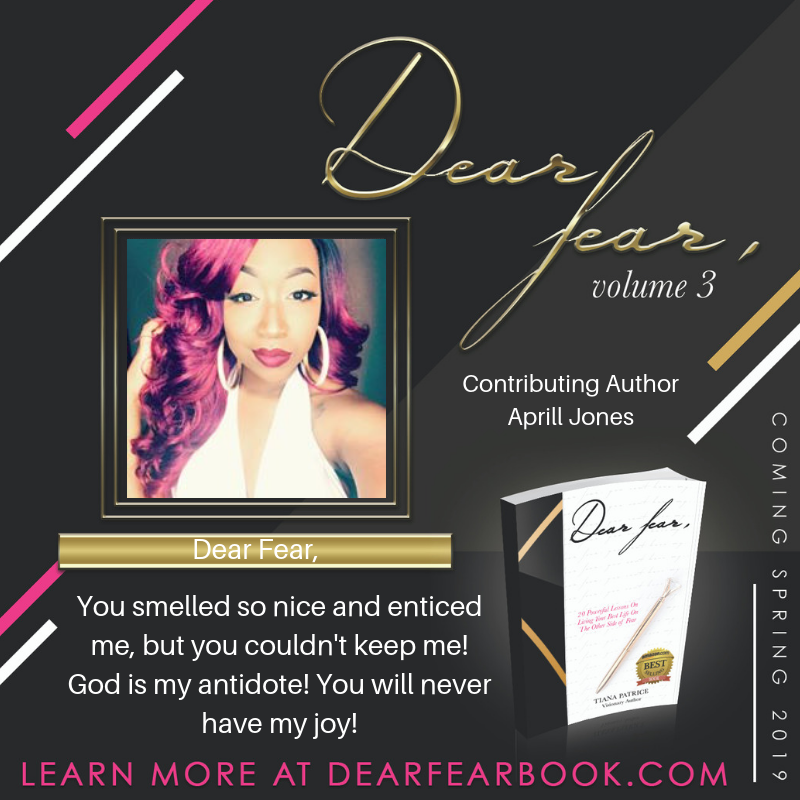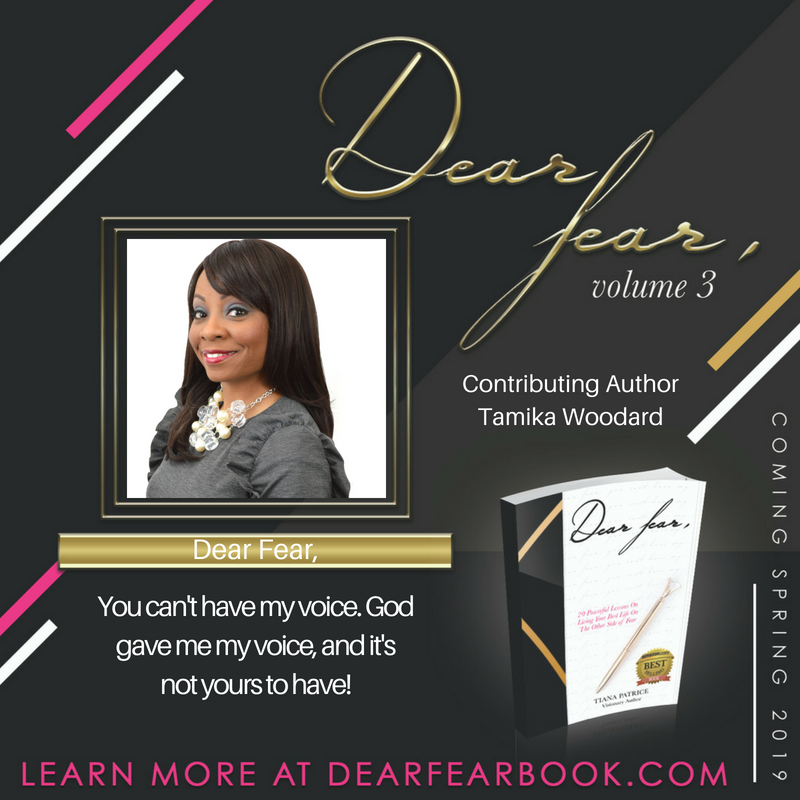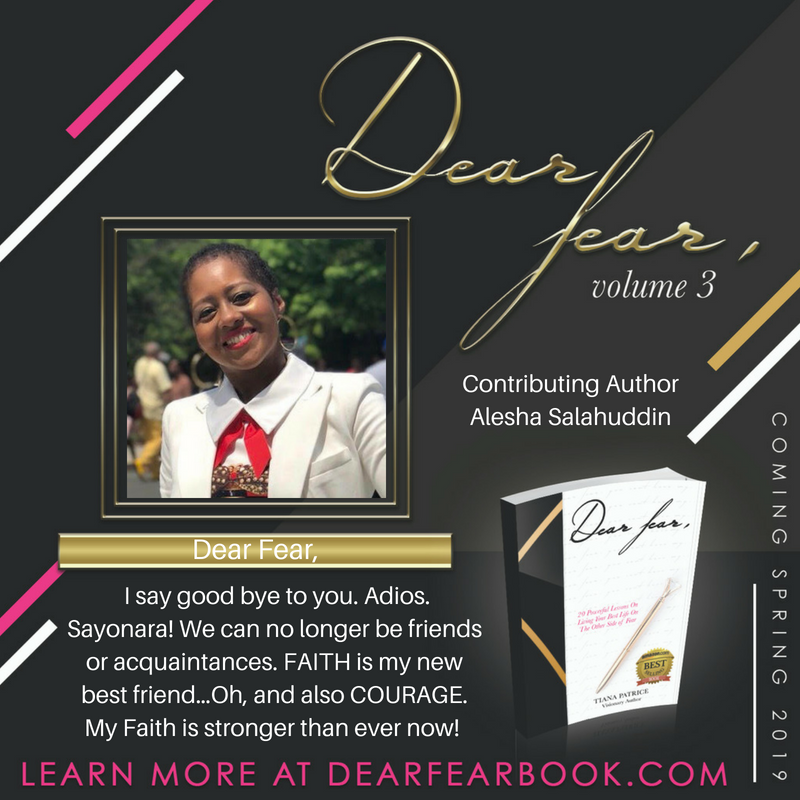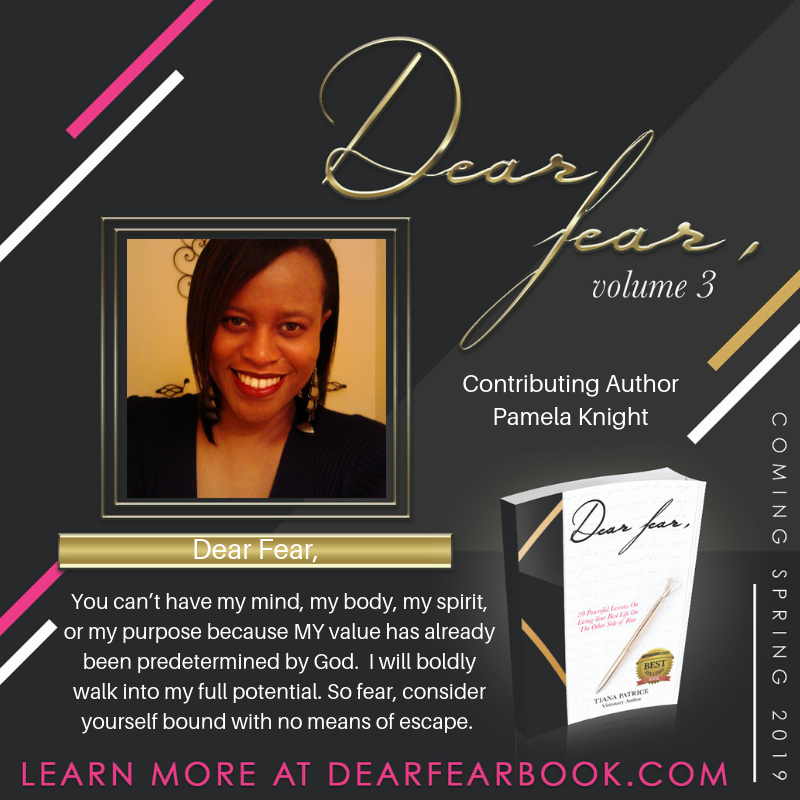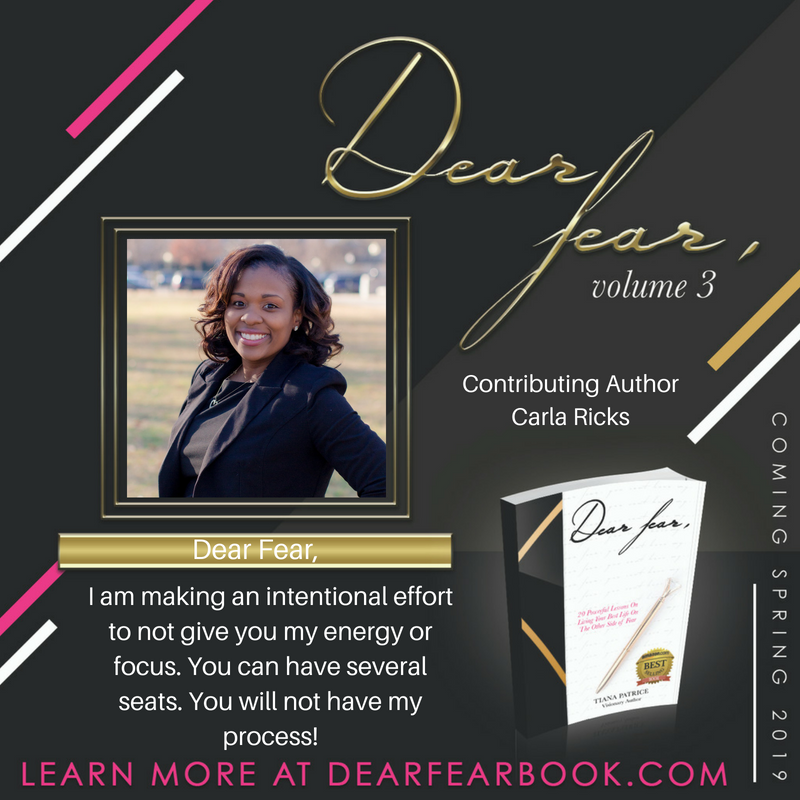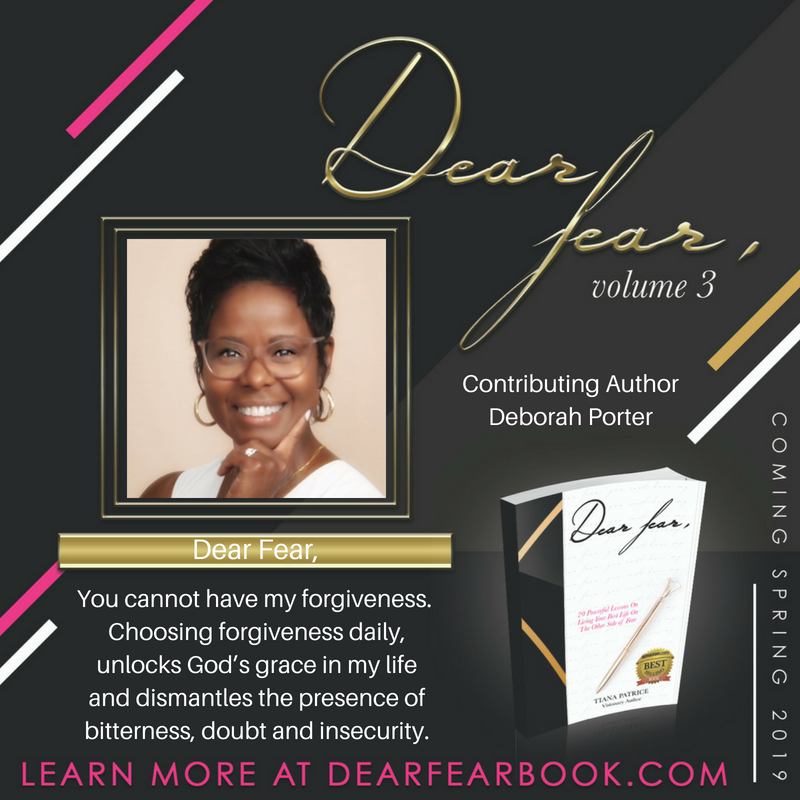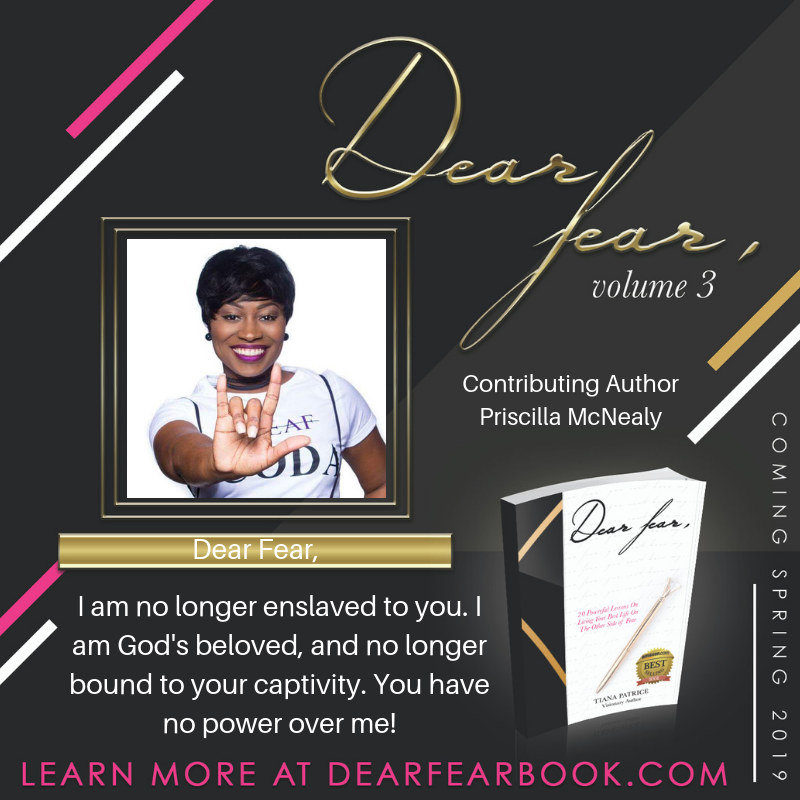 Grab Your Copy of Dear Fear Vol 3 Today!

Dear Fear, Volume 2
18 Powerful Lessons on Resilience, Courage, and Living Your Best Life On The Other Side of Fear.
Presented By: Tiana Patrice
Meet The Authors Of Dear Fear Volume 2
Click Here To Order Your Copy Of Dear Fear, Vol 2 Today!
Carla McNeal, Educator, Author, Entrepreneur
Click Here To Order Your Copy Of Dear Fear, Vol 2 Today!
What People Are Saying
This book was phenomenal so many different examples of how to fight your own fear I love how they allow you to take notes in the book just awesome

Awesome read. This book forced me to face some of my personal fears….some that I was aware of and some that I was not. Through the promptings from this book, I have been inspired to stop hiding behind a wheelchair and allow God to use me for His perfect work

Dear Fear gives hope to those who are struggling to see beyond fears perspective. The testimonies shared throughout the book are real world examples of what possible can produce if we all push beyond fear.

I'm amazed at how my spirit was stirred up from reading such relatable stories of truth of how fear is determined to diminish every goal, vision, and work that we were each destined to complete. I love the interaction throughout the chapters, and that not on only will you learn how to answer questions and concerns about your own personal fears but how to also conqueror them.
Meet The Authors Of Dear Fear Volume 1
Dear Fear, You Can't Have My Position
Dear Fear, You Can't Have My Past
Dear Fear, You Can't Have My Greatness
Dear Fear, You Can't Have My Mind
Dear Fear, I Am Not "Her"
Dear Fear, You Can't Have My Confidence
Dear Fear, You Can't Have My Breaking
Dear Fear, You Can't Have My Story
Dear Fear, You Can't Have My Future
Dear Fear, You Can't Have My Impact
Dear Fear, You Can't Have My Transition
Dear Fear, You Can't Have My Power
Dear Fear, You Can Keep Your Traditions
Dear Fear, You Can't Have My Shine
Dear Fear, You Can't Have My Faith
Dear Fear, You Can't Have My Journey
Dear Fear, You Can't Have My Voice
Dear Fear, You Can't Have My Life
Dear Fear, Let Go Of My Bootstraps