The Anatomy of A Barren Place:
Back To The Beginning
"Baby, stop running back and forth to that door"- Grandma Ruthie Lee
"I'm just waiting on my daddy to come back"- Young Patrice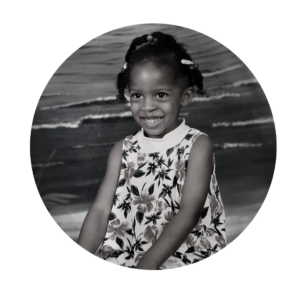 It's impossible to tell the end of a story, without the beginning. I don't mean the surface beginning with sunshine and rainbows, accolades and "as seen in". I mean the ugly truths that for years we try to hide with beautiful smiles, careers, and glittery brands. The ugly truths that many of us skip over once we find a version of success that doesn't mirror where we have been.
For many of us the beginning of a barren place begins in childhood from unhealed wounds. If we ever stop to peel back the layers of the onion we call life, we will find seeds of insecurities, doubts, and self sabotaging beliefs that were planted before we even had a chance to know who we were.
Those seeds that were planted grew weeds that attempted to destroy the innocence of the nutrient rich soil God created us from. These weeds grew roots that were never intended to reap a harvest, yet because these areas of our lives were left unchecked, unplucked, and weeded out we now have a society of adults living lives with withered fruit, putting price tags on it and calling it success.
Because we have allowed our past, our traumas, our brokenness to dictate our lives, raise our children and run our businesses, we have unhealed leaders pouring out of barren places and killing with each pour. We have unhealed parents raising children in the same cycles they were forced to live in. We have influencers, influencing from a place of pain calling it purpose. We have CEOs and executives running big corporate brands with unchecked privilege screaming All Lives Matter while blatantly disregarding the lives of the ones monetizing their wealth.
So how do we kill the seeds planted by the enemy?
First we identify the lie, and we combat it with truth, prayer and worship.
The bible tells us in John 8:32 "Ye shall know the TRUTH and the TRUTH shall set you free".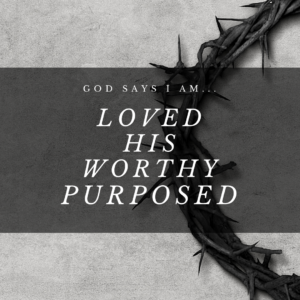 This means that in order to combat the lies of the enemy we must first know the truth.
Not what man says, not what Satan says, but what God says about us! .
Let's meet young Patrice.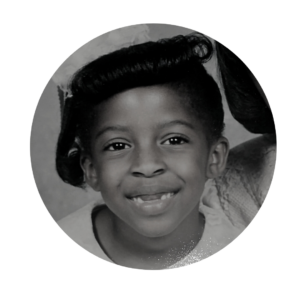 You may have heard the story before. You know, the story of the daddyless daughter looking for love in all the wrong places. Searching to fill voids created by one man, by the arms of many.
My story is not much different.
Raised by a single mom and a praying grandmother, I was bred to work hard, grind non stop, take care of myself and make sure that I owned the table. #Period
My grandmother's position was for all of her girls to "go to college, learn to get your own, so that what a man brings to the table isn't all you have to eat".
Because of the era she was raised in and the struggles she experienced in marriage, the root of her teaching was "you never want to be the woman that can't leave because you don't have anything. At that point he has all control, can do what he wants, and all you can say is wash up before you come to dinner"
Say less, Granny.
Seed. Planted.
Raised in part from versions of their pain, I learned to be an independent woman and not trust men long before Lil' Boosie came out.
Mix in growing up with a father whose presence was dependent on convenience and favorable conditions….chileee my weeds were out of control.
Gardened by his absence and watered by his lies, every seed took root and entered another area of my life.
The lies of "I'll be back" planted seeds of "I didn't choose you, you aren't enough, you aren't worthy of my time, there is always something better than you…"
What could a fetus have done that was so bad for him not to want to stay?
You see, the truth is the divorce didn't happen in 2019
I'd be lying if I said that the record was chopped, screwed and rejected during the divorce. The reality is it was a record that had been playing for 30 years of my life. From the days of waiting at the window for daddy to come back to the many failed situationships before. Same record, different track.
Another man.
Another broken promise.
And in my adult age, another thing I allowed.
Yet another feeling of never being enough or worthy for someone to stay. The unhealed 15 year old was proved to be right yet again. Everyone that loves you…leaves you.
What was a vow to something that was already expired?
For fatherless daughters we are bred to "run to doors" in expectation of something or someone to be there. For many of us, the thing waiting at the door mirrored the voids we carried and the love we longed for, but weren't designed to carry us. #Message
The problem with the door, is that instinctively it creates a false hope and plants a seed called disappointment when hope doesn't translate to reality. We then create a covenant with the door of rejection and abandonment and a soul tie with never being enough.
Another seed. Another weed.
Dang, I should've stopped running to that door.
Because I wasn't healed 30 year old Tiana walked down the aisle, but 15 year old Tiana said "I do".
When we don't confront the door, and burn it down, we allow things that are familiar with this brokenness to have access to our purpose at any time.
Thus, marrying situationships and attempting to turn them into lifetimes.
Walls of distrust were built before I was 8. Insecurities of never being enough became my truth before I was 10. By the time I was 13, I was a teenager with a mission to not let anyone get close enough to hurt me so I quickly learned how to control the narrative.
How many of you can relate with this?
You learned to hurt before you got hurt, leave before you were left, and hide how much you truly cared.
When dating, I never stayed long with those that truly had my best interest at heart. That was too easy. I wasn't conditioned for easy. I was conditioned for struggle. (Who caught that)
I never chose those that chose me, I chose the ones that didn't have the capability to fully choose me back. (Cute things, that were also broken.)
A. Whole. Word.
Before we continue, I want you to do a quick self inventory.
Take some time and ask yourself, what is your door made of? Is it rejection, abandonment, fear? When is the last time you actually confronted it?
Are you connecting to people, places and things out of alignment with your assignment because your door is wide open? And if so, what do you believe will happen if you never lean into God's truth and shut it?
Seriously, pause for a second and think about some situations you have gotten into because you didn't unlearn the lies from your childhood.
Think about the relationships you entered into because you weren't healed.
The bedroom aisles you went down because you positioned your worth in the arms of another.
Think about the lies you believed because you weren't abiding in Christ.
Self inventories are never fun, they require that you are open and honest with yourself, so that true healing and deliverance can occur. They require that you fully surrender, acknowledge and identify the barren places in your life.
Again, how do we kill the weed?
With Truth, Prayer and Worship.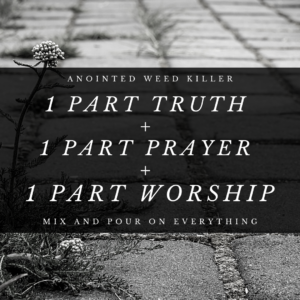 "And all things, whatsoever ye shall ask in prayer, believing, ye shall receive."
Matthew 21:22
Two years ago as God really began to pull me into my purposed place he aligned me under the leadership of my Apostle, Paul Horn and provided me with a safe place to grow and learn true servitude. (Interesting fact, God called me under this leadership before my engagement, but because I wanted to submit to my will, I didn't answer the call until 1 week AFTER I said "I do")
I remember sitting in bible study one evening and Pastor Horn told us, "One of the most powerful prayers you can pray is Lord, show me, me."
Hmm, that seemed simple enough. So I did.
When I tell you, God opened the floodgates and began to show me childhood wounds, the roots of them, and more.
When God brings something up, he wants it to come out.
As God began to reveal and snatch up my weeds, I had to deal with the places in my life that were barren.
I had to deal with abandonment and rejection.
I had to deal with the thoughts of not being enough.
I had to deal with the trust issues.
I had to deal with the independent woman.
I had to deal with the lies of the enemy.
I had to DEAL.
You can't heal until you DEAL with YOU!
God began to prune me, and speak to the broken areas. He began to silence the unhealed 15 year old with love.
My perspective began to change. I took responsibility and accountability for the areas of my life that I CHOSE to enter into situations out of God's will.
I accepted God's truth.
I am LOVED. I am CHOSEN. I am ENOUGH. I am POSSIBLE.
I formed a relationship with him. I learned to rest in his presence. I worshiped in spirit and in truth. I gave him access to all of me. Not just the glittery parts, but the ugly parts that I covered up as a boss.
Every moment God "showed me, me", I would pray: "God remove it. I don't want it. God minister to it. I don't need it. God heal it. I want out. God overflow into that voided place I just want you"
And he did. Over and Over again.
There is power in prayer!
There is nothing you are experiencing that God doesn't understand. There is no broken place that God can't mend. There is no lie of the enemy that his truth won't demolish. There is no hurt place that God can't heal.
I am the proof!
This is weed killing season!
I declare that the cycles of broken things are breaking now!
In Jesus Name…Amen!
Stay Tuned For Part 3: Let. It. Burn.
Sign up to know when it drops!
With Love,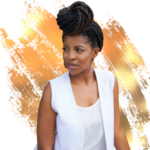 Tiana Patrice
Tiana is a Rug Burner, fearLESS Activator and founder of the fearLESS Experience. For the first time she is sharing her story of healing and freedom on the other side of divorce in the blog series "From Barren to Breakthrough". Wanna catch up with Tiana outside of the blog, follow her on Instagram!
P.S. Be sure to join the list to get access to the FULL series
Stop Worrying and Start Worshiping!
Check out my Youtube Worship List Here:
Stay In Worship Even When You Sleep
Check out my Nighttime Worship List Here:
Pray With Us & Be The First To Know When The Next Blog Launches
Join The List & Get 7 Prayers To Your Inbox Right Now!
Ready To Share Your Story?
Book A Call With a Dear Fear Destiny Advocate Today
Want Deeper Relationship Coaching