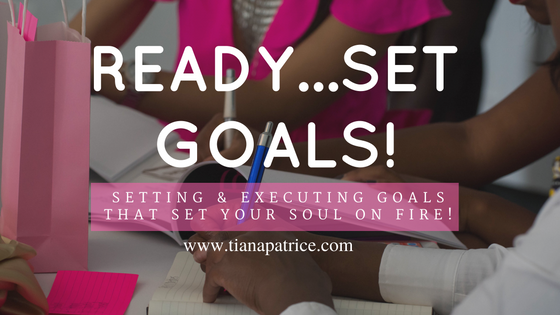 I always get excited when it's about time for a New Year to roll in. No, not because of tax time (well I like that part too), or because of a reason to get dressed up, party, make dumb decisions and say I'll do better next year (C'mon, we have all done it.) I get excited because if I prepare properly, with a New Year comes a fresh start, a chance to start over on the calendar and set new personal and professional goals. I enter each year with a sense of optimism and I challenge myself to go above and beyond with each goal that I set and conquer them without complaints. But I don't just do this when the New Year rolls around…
Many of us set similar goals at the end of each year to take on challenges and make the next year better than the previous. Some people vow to lose weight, be a better husband/wife/girlfriend/boyfriend, stop smoking, go to school, become financially stable, travel more, etc… We psych ourselves out and get caught up in the hype that with a New Year  things will automatically be better.
Am I right?
But what happens is we often fail to realize that the New Year is nothing but another day on the calendar. Time doesn't go on vacation for us to get all of our ducks in a row. Time continues to wind down, and before we know it another year has passed and we have sold ourselves short and cheated ourselves out of yet another successful year.
Why?
Because we held on to an idea that life would be better. But ideas and goals without CONSISTENT action behind them are mere thoughts. And thoughts, without action have no value.
So the question becomes, how do we make our time work in our favor?
That answer is simple. Planning.
Tweet: Failing to plan is planning for failure-Tiana Patrice
We have to go old school and set SMART goals (Specific, Measurable, Attainable, Realistic and Timely), and also set a plan of how you will accomplish those goals. Start with daily goals. Before bed each night make a list of things you will work on for the next day or things you will accomplish, and then make a list of how you will accomplish each goal. You see, that makes them S-Specific and M-Measurable. Make sure they are realistic and attainable as well. If you know that tomorrow you can't build an entire website, don't set that goal. Instead set a goal to write out your About Page, and Services Page. This eliminates overwhelm and feelings of defeat.
If setting daily goals gets too tedious, set weekly goals each Sunday evening. If your goal is create a website, set a goal to write out one page for the website each day. Once you set the goal, set ways that you will accomplish the goal.
If your goal is to lose weight, start with setting the alarm clock earlier to prepare a healthy breakfast before work instead of grabbing fast food on the go. Plan your life around that goal. If you are supposed to be in the gym on Wednesday nights, and someone invites you to happy hour. Tell the apple martinis to not have hard feelings, but you won't be making it.
Tweet: At some point YOU have to want better for YOU.-Tiana Patrice 
The fact of the matter is this, we should go into each day like it is our New Year. A fresh start daily to accomplish the goals we set for ourselves. After all, days turn to weeks, weeks to months and before you know it another year will show face. How awesome would it be to enter into a New Year with different goals because you accomplished all of the previous ones you set each week?
Life is about choices and life is also what you make of it. We can sit around and fantasize about how life could be better or we can set a plan of action and make it happen. No excuses only brilliant results.  I challenge you to set a few realistic goals this week and a plan of action and then EXECUTE! It's time to start owning your life, and not allowing life to own you!
With Love,
Tiana Patrice
P.S. Looking to grow more with likeminded women and set goals that will catapult your life and business? Join us in The Fearless Club, our monthly business mastermind, hosted by me…Best Selling Author, Speaker and Coach. Learn more here –> The Fearless Club